A few weeks ago, I found myself outlining to a friend exactly WHY I get so deeply into certain fandoms.  And then last week, I was again in a discussion of how I could find such merit in certain cartoons.
I figure that means it is time to put some of that here for those who are curious.  Because sometimes it's not about the fandom itself, but what you get out of it that counts.
So here are a few of my top fandoms (in terms of what I write, not what I read necessarily) and why I have the deep love for them that I do.
And hey — the four of you, or however-many people read this blog, jump in the comments!  I want to know what aspects of these shows I've missed that make them worth all the love.
(Minimal spoilers ahead, I hope!)
---
Mighty Max =
This is one of those cartoons that got made in the 90s on a shoestring budget basically to sell toys. No, seriously. Do you know the Polly Pocket toys for girls? Well they made a boy-centric version and called it Mighty Max, and then decided to make a cartoon about it to sell the things. But I think it was that exact sort of "eh, who cares?" that gave the creators the freedom to write a truly spectacular show for its time. (It helps that the main characters were voiced by some of the true VA stars: Rob Paulsen, Tony Jay, Frank Welker, Tress MacNeille, and Tim Curry.) The basic premise is that an 11-year-old kid is the destined hero who has been summoned to start kicking evil's butt and saving the world on a weekly basis.
Max himself grows rather a lot over the course of the series' 2 seasons. For the most part, he's a smart-aleck of a kid, snapping off one-liners in the face of danger and avoiding his homework with alacrity. He is very much a reluctant hero, especially at the beginning, because the world-saving tends to happen right when he's having the most fun and being a kid. But as time goes on, and as the situations get more serious, Max's "but why do I have to be the Mighty One today?" moments become more half-hearted. At his core, however, he is a real hero, and this comes out when needed. Max is a modern-day Odysseus in the sense of being able to outwit his opponents and taunt them into making mistakes. Max can face down odds and evil-doers many times his size, shaking in his shoes, until his back is against the wall. And then he takes a breath, and fights back. The destiny he carries gives him precious few actual "powers" as it were, but it tends to work in subtle ways. For example, if he finds himself in front of an alien computer and he has to turn it off, out of a thousand buttons, he'll hit the right one. Fate and chance tend to play on his side, especially when it matters.
He is accompanied on his journey against all things nefarious by two companions/teachers/friends. First is Norman, a mostly immortal man who is the source of many legends (Thor, Hercules, etc.) who "eats bad guys for breakfast" and is effectively the ultimate bodyguard. But Norman is not at all the meathead he appears to be at the start. He is very aware of the fact that 11-year-old Max is, in fact, the Mighty One who is going to be the greatest hero of all time, which means he is completely happy to let Max fight or make plans and doesn't try to coddle or smother the kid. He doesn't actually try to impede Max's growth as a hero, or tell him that things are "too dangerous." Because, even if they are, the dangerous things have to get done to save the world, and Max is the one to do it — with Norman at his side to back him up, of course. Additionally, he's a very deep, very feeling character — we get several episodes about his life and his experiences through time, including the death of his father and his guilt at not being able to protect him. For all Norman looks like he could take on every linebacker on the planet at once and win, he is tender-hearted and almost gentle in disposition (when not kicking asses, obviously).
The second companion Max has on his journey is Virgil, who looks like a chicken (fowl, actually), is half Max's size, and is tens of thousands of years old. Virgil is a Lemurian, a member of an ancient, lost civilization which set in motion a lot of the events that led to the rise of all younger peoples. Virgil has been waiting for five thousand years for Max to arise as the Mighty One so he can guide the kid in his world-saving. Virgil is complicated in other ways, some of which you have to really think about — he is the last of his people, has some of the arrogance of a puppet master (including the fact that he admits that he knows almost everything and is rarely, if ever, wrong), and he is very imperious about pretty much sending Max into whatever the hell danger is in front of them, sure that Max is "destined to win." But, that said, Virgil's scars run deep. Virgil has watched heroes die before, and when pressed, reveals how badly he does not want to see Max's fate go the same way. The ultimate evil the Mighty One will face (and goes up against many times during the series) is named Skullmaster, and Virgil and Skullmaster have *history.*
One of the things that makes the show unique for its time is that it is freaking DARK. Most episodes open with somebody getting killed just off screen, but complete with screaming. Wikipedia at one point described the series as "Adventure/Horror" and there's truth to that. Skullmaster, brilliantly voiced by Tim Curry, is one of the most outright malicious, terrifying villains ever put to screen, who regularly talks about torturing Max, or "sucking the marrow from his bones" if he catches him. He is EVIL. And there are other evils, too, some comical, some subtle, some misguided. Not everybody threatening the world means evil, or realizes they're doing it. From aliens to ancient sorcerers to demi-gods (or actual gods) to mutants, the monsters of the week tend to be neat either by motivation or, even more often, cultural association. Because another unique aspect of the show is that as the Mighty One, Max is given the Cosmic Cap (yes, it looks like a baseball cap, and there are *reasons*) which opens portals across the planet. It allows them to make quick getaways, but it also means they spend most of their adventures in non-USA places. So some of their villains are legendary creatures from Viking lore, some are from Hindu mythology, some are something else entirely. The focus on multiculturalism and multinationalism gives the series another edge.
I first discovered the series in middle school, and it has stayed with me my entire life. Especially as a lonely kid, the idea of having two protectors/teachers/friends for life was deeply appealing. It's not the *first* fandom I ever wrote fic in, but it is as close to my heart as anything, and it's certainly where I have done the most growing. I have a written HUGE series based on MM, developing the mythology, the characters, the history, and it's still coming. I'll probably write the next novel in the series starting in January, even. I don't think I can ever be done with Mighty Max, honestly. There's too much of me in it. And there's too much of it in me. And there's SO MUCH THERE. This series goes practically everywhere, and I've taken it all over the place, too (I think I've crossed it with 3 or 4 other fandoms at this point, sometimes in big ways). And, at heart, it's about one kid learning to find the hero inside himself, accept it, and live it with two stalwart friends at his side.
Sarah jokes that she expects I'll die at 100 years old with my Mighty Max series still unfinished. She might well be right.
TMNT =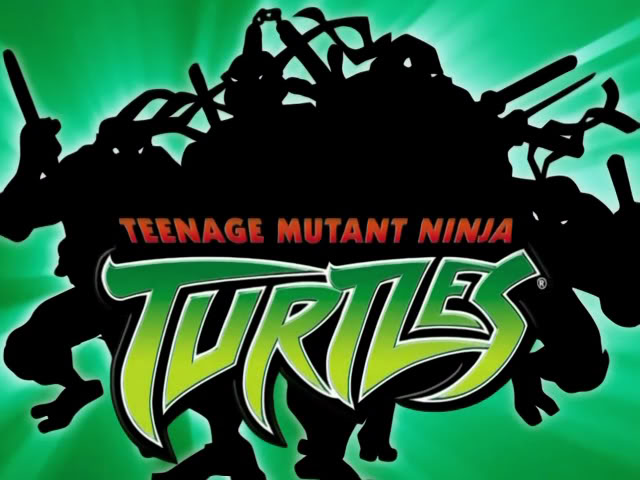 So, for the uninitiated, you have to understand that there are LOTS of versions of TMNT out there. Most people, when you start talking about mutant ninja turtles, think about the 80's version of pizza-loving,G-rated dudes. But TMNT itself began as a comic published by Mirage in 1984, and was far darker than the cartoon that came out to sell toys to boys through the early 90's. Then there's the live-action trio of movies that came out around the same time, but which were based on the Mirage version of the universe rather than the cartoon version — which had taken some interesting liberties with the original plots and characters. There was a separate run of comics published in the 80's and 90's by Archie Comics and another the late 90's by Image Comics, too, though Mirage continued publishing again in the 2000s and 2010s. (We don't talk about the brief live-action TV series. Seriously. It is DEAD to us. Hell, it's even dead to the creators!) Then, in 2003, the series returned as a cartoon again. It ran for 7 years and really reinvented the series for a new age of consumers right before the Mirage property was sold to Nickelodeon. Another movie came out in 2007, this one CGI. IDW Comics has a separate TMNT line running since 2011 or so as well. With the sale by Mirage, in 2012 Nickelodeon created their own version, a CGI series that only just concluded this year. (Also not gonna talk about the Michael Bay version; many TMNT fans enjoy it, but I do not.) And that's before you get into weird alternates, like TMNT mangas (they exist) or the video games, or the daily comic strips, or TMNT the RPG.
So…basically, when you say "I like TMNT," that's kinda like saying "I like Star Trek." Because you have to ask "Oh? Which one?" and "Series, or movies?" to start getting at the *which* Star Trek we're talking about here. There is no one TMNT, even if the characters are, at their core, consistent from one to another. But the stories, plots, even backstories, vary WIDELY between versions. Some are dark as hell, others are lighthearted and cheerful. Some challenge assumptions about personhood, or morality, or honor. Others focus on jokes and puns and slapstick humor.
For me, I grew up watching the TMNT of the 80's, the cartoon, but it always felt a little bit hollow to me. I would pretend it with my brother and other kids (Donatello was my favorite turtle, but I was a girl so I thought I had to play/had to like April best — ha! Gender norms in childhood suck!), but I just wanted…I dunno. A different story than there was. And yet, something about TMNT stuck with me into adulthood in that nostalgic way you look back at cartoons and see more than was ever there.
What I've learned since, of course, is that there IS more there — you just have to look at it with the discerning eye of an adult and parse out the secrets the writers hid there for you.
I didn't even start watching the 2003 version of TMNT until more than halfway through its run. When I did…DAMN. HERE was the version I was looking for. Here were the brothers, complex and struggling and learning and awesome and overwhelmed and courageous and still so young. Here was a supporting cast of people who could be folded into more camps than "good" and "bad but not that bad." Here were some actually badass girls. And here were some writers who really, really knew what they were doing.
(It helps that Peter Laird, one of the original creators, did consulting on it, and helped with the writing, and basically lended a hand to steer the ship and keep it from going the way of The Series That Shall Not Be Named.)
Even when it was campy, or silly, or clearly had too much 4Kids for breakfast, it still had the heart of TMNT which was what I had been looking for all along. And if you have trouble seeing it, put it this way:
Take the mutant part out of it. Think of the story in terms of characters.
An immigrant to New York loses his entire family, watches them be murdered in front of him by his Clan's ultimate enemy. Wounded, heartsick, he goes into hiding. In the sewers, he finds four children who have been abandoned, and decides to raise them as his own. In some tellings of the story, the implication is that these children were to be his army to send against the one who killed his family — that he took them in so that they would rise up and administer his vengeance for his lost loved ones. But, over time, he became more than teacher and they more than students — they became family, and he grew to love his sons far more than he hated his enemy. He taught them the skills of his Clan, so that they could survive and protect one another, and feared for the day they might be faced with the murderer of their adopted family.
Compelling enough yet? Now add the brothers.
Leonardo is a natural leader, strong in his ninjutsu, honorable, trying to follow the ways of Bushido to the best of his ability. He is focused and observant, and loyal to a fault. He will face down literally anything to save a member of his family. He will risk anything when his family is in need. And yet, he can be haughty about being the best, or being the leader. He may doubt in himself, especially when battles go against them. And he gets frustrated being the only voice of reason sometimes when his brothers are not working with him. He feels deeply, and the burden of leadership is very, very heavy on his shoulders — because Leo knows that someday it may fall to him to make a decision that will mean one of his brothers isn't coming home again.
Donatello is a calm and cheerful soul, loyal to the family as much as Leonardo, but entirely different in every other way. Donatello is unconditionally a genius. By the age of 15, he was building vehicles that could hover, or a computer array that could seamlessly hack the NSA. He is the team's engineer, their scientist, and sometimes their medic. Virtually every situation that needs a resolution rotates on Donatello's ability to outthink any problem and any opponent. In some cases, Don is the least skilled of his brothers in ninjutsu, and he is vastly more likely to solve a problem with his brain than his fists. This makes him something of an outsider amongst his brothers, their resident geek, and leaves him sometimes thinking and speaking at levels not one of them can really understand. But everything Don does is for them, from building them a lair in which to live to putting every bit of his knowledge and intelligence to work to get them out of everything they get into — no matter what.
Raphael is as hot-headed and poorly tempered as Don is calm. Raphael is a constant foil to Leo, fighting him on practically everything, sometimes just on principle. But Raph isn't antagonistic to no reason. Raph has spent his entire life trying to prove himself worthy of the family he loves so much, and also to protect them. He is a free and independent spirit and HATES being ordered around by anyone, much less Leo whom he can take two falls out of four on his good days. Raph is also deeply, deeply afraid to lose any one of his brothers. He deals with this fear poorly, generally. He would take a bullet for any of his brothers, and regularly in battle ends up watching the others in fights so he can swoop in to help them if the get overwhelmed — most often Donatello, in fact, since Don is often trying to fight AND reprogram a computer on the fly or something. Raph burns off his endless, furious energy by punching things, or riding a motorcycle, or, sometimes, patrolling the city alone and doing a little vigilante work. Because Raph burns against injustice, and he will not stand for it. Of the four of them, Raph's emotions tend to explode in every direction the most — when pushed to it, he feels grief profoundly, or rage engulfingly. And all those feelings, without limit, center on his family.
Michelangelo is the baby of the family — although in almost all incarnations the brothers are literally the same age because they don't know how old they really are and the all mutated at the same time — and acts as its main source of tension-breaking and comic relief. This is as much a part of his carefree and goofy personality as it is a deliberate attempt on his part to keep the peace. The quickest way to get his three brothers aligned is to make a bad joke and gang them all up on himself, and he clearly knows it. He also loves easily, and not only his family. Of them all, he tends to be the one with a pet, or the most friends, or the greatest desire to meet and help more people in the world. Mikey pushes Raph to his limits, tests Leo's patience, regularly breaks whatever Don builds, and "forgets" to obey his father, but he never lets them down when it matters. And all that happy-go-lucky, cheering goofiness is yet another mask for his own feelings, and his own fears. In some ways, Mikey is the most resilient of them all, because he is possessed of an endless kind of optimism — things will work out eventually, and he'll keep helping them along until they get there. When Mikey stops kidding around, he is a terrifying force to be reckoned with, but his brothers need him to be their kidding, joking, cheerful heart, and he is happy to oblige.
Without even getting into other characters, or the plotlines, or the villains…just this is enough for me to love. The brotherhood between the four turtles, the bonds of family and honor and Clan that link them and Splinter — it is a source of endless joy and fascination for me. Most of the times I write TMNT, I'm looking at those connections, and I'm testing them. There is something about these bonds that go beyond blood (or mutagen), that go beyond Clan, that go beyond family, that connect at the place where the immortal soul latches onto fate, that I never tire of writing about, or reading about.
Most of the fandoms on this list can be characterized one way or another as "team-as-family against the world," but it's never more true or more acute than it is with my very-much-beloved turtles.
Gundam Wing =

This is an anime I just pretty much love for too many irrational reasons. It's mecha! Empathy in space! The meaning of conflict! And…um. Those boys.
So, the funny thing is that the *characters* of Gundam Wing are fantastic, but the plot is…convoluted doesn't even cover it. It takes a few watchings to pin down the exact political situation behind the events of the series, and it changes ALL THE TIME. At some point, I think there's 5 or 6 factions in play, and some of them are aligned more than one way, and it just is a giant mess. Which is kinda the point, the whole chaos-of-war thing, but it makes for some tough watching. In short, 90% of the human race has left the Earth to live in colonies in space. The 10% who remain on Earth are the wealthy who pretty much rule everything. Conflict arises when the colonies want some actual representation in government, to say nothing of economic parity, and war breaks out. The war goes really south and a band of scientists each train a 15-year-old pilot to go to Earth as a terrorist, basically destroying the Earth's military resources under the cover of being a high schooler. Then things get weird and the colonies turn on them and…yeah, it gets weird. Anyway, it's the pilots themselves that draw me in.
The five pilots are very, very different from one another. Heero Yuy was raised by an assassin and conditioned to suppress almost all emotion in order to accomplish whatever mission is set him. But in spite of that, he is dedicated, insanely stubborn, and oddly sympathetic. He knows he is a killer, and he does so when required to accomplish his goals, but I don't think he is ever okay with that fact. His heart is buried under layers, and only he knows how deep it goes.
Duo Maxwell was an orphan who survived on the streets, watched the only people who ever took him in burn to death or die of plague, and copes with it by being the wise-cracker of the group. He calls himself the "God of Death" ("Great Destroyer in the dub because *reasons*) and has a kind of manic fury to his hilarity. He has fabulous snark in the heat of battle, and walks that line between being truly friendly and fiendishly deadly with a laugh.
Trowa Barton is…really an enigma. He has no idea who he is or where he came from, and until the series begins he doesn't even have a name of his own, going by No-Name. He was raised with a mercenary group and has spent virtually his entire life as a spy or a soldier. But once he starts connecting with people, starting with the pilots and then with a few civilians, he begins to show how very kind and protective he is. He learns that his identity is his own, as are his feelings, and decides to live based upon whatever choices he can give himself.
Quatre Raberba Winner (totally my favorite, not gonna lie) is the son of one of the wealthiest men in the world and in line to inherit a corporation that would be about 12 of the top companies in the US put together times four. He is, to a much-debated extent, an empath, reacting when he can feel the pain of others. But he is a skilled fighter regardless, controlling his emotions by sheer focus. Quatre is also the strategist and tactician of the group, able to lead effectively and come up with a battle plan that wins out even when overwhelmed. Quatre's emotions are close to the surface, and he is gentle and affectionate and peace-loving even when he has no choice but to fight. Mostly. Except when…kinda brainwashed. Then he is TERRIFYING.
Chang WuFei is a kid who was never meant to be a pilot at all. Wufei was married by family custom at the age of 13, I think, to his arranged bride, who was chosen to be the fifth pilot sent to protect the colonies. But she was killed in battle, and Wufei took on her duty for himself, though he would be more of a scholar and wise old Chinese guy if you left him to his own devices. Wufei despises weakness because he hates himself for what happened to his wife (whom he didn't exactly love, they barely knew one another and fought all the time), but he feels it was his fault she died anyway. He is looking for justice, and he's going to find it by burning his way through anything in his path.
Over the course of the series, their relationships shift a lot. Some of them get on really well (there is good reason the series *almost* straight-up ships Quatre and Trowa), some of them mostly yell at each other. At first, they don't even know there are more pilots than themselves out there fighting — as they meet and realize they have the same mission and the same goals, they shift into and out of alliances with each other. In the end, though, the five of them stand up as the last force which can stand for peace in the face of total annihilation (because it's a Gundam trope — somebody always wants to just do away with the world eventually). And they all have to decide who they are and where they stand and what they believe. In the end, they choose life, they choose to fight for the sake of those who can't fight for themselves, and they choose to do so together.
It's a pretty great fandom for character speculation. I LOVE those boys. I've written about them A LOT and for good reason.
Leverage =

So, this was a series that ran for 5 years starting in 2008 and is pretty much perfect. It's a series about a group of 5 thieves who band together to help people. As in — if someone can't sue a big company because they can't afford it, the Leverage team will run a game on the company's CEO and ensure that the family gets a compensation package. Or if someone is conning people out of their life savings, the team will con the conmen right back and return the money. It has a lot of the same kind of humor or one-liners or pacing of a good Joss Whedon production, but on a different scale. The interesting thing is that it was timed specifically for the 2008-2009 market crash stuff, and is basically the story of honest people, who happen to be thieves, getting back at the rich fatcats hurting the middle and lower classes. The social justice is strong with this one, in the best possible way.
The team is made up of five people who have a specific skill set each:
Alec Hardison is their Hacker. He is unmatched when it comes to computers and gadgets. He is frighteningly brilliant, but he tends to get distracted. He's also an unrepentant nerd, spouting Star Wars or Star Trek lines or whatever references to fandom he feels like. He can grift fairly well, though his accents are awful, and he sometimes tries to plan the team's cons, but he doesn't quite have the right perspective for it — Hardison wants so badly to make the real world as perfect as the coding he lives and breathes, and it just doesn't work out that way. Hardison is dangerous when mad because he can ruin you six ways from Sunday, but he tends towards prankerism instead (as in, sending a thousand porn magazines to a jerk's office rather than, say, emptying their bank accounts). Hardison has a HUUUUUGE crush on Parker.
Parker is their Thief. Parker, she has no other name, is basically a ninja thief. Parker can come and go from a bank without ever being seen, can lift items from a mark's pocket and they won't even know she was there, can crack any safe you put in front of her, and spends a lot of time in air ducts and dangling from rooftop harnesses. Parker is neat because she is very much neuro-atypical. She misses common social cues and doesn't always understand people, but she isn't autistic per se. Even Sarah isn't quite sure how to define her. Parker is in some ways a very angry woman because she comes from a very broken background, but in other ways she is the most vulnerable of them all. Parker is ADORABLE, even though she'd stab you with a fork for saying so. She's been alone for most of her life, and so her developing relationships with the team, particularly Hardison, are awkward and beautiful.
(Funny story. The actress who plays Parker took some pick-pocketing lessons early in the first season so she could do it correctly. Not only did she learn so well that her teacher said she could make a living just by what she could steal on the street, but some of her lifts were too invisible for the cameras to pick up and had to be reshot!)
Eliot Spencer is their Hitter. (FYI ELIOT IS MY FAVORITE) Eliot starts as a "retrieval specialist" which basically means he will take a job and get you the thing you need, probably by dispatching literally every person in between him and his target. He is a martial artist, weapons specialist, combat master, and all-around total badass. That said, he doesn't like guns and he doesn't kill. Eliot's known history starts with him joining the US military at 18, becoming special forces and more, and then going to the dark side and ending up as a hitman and hired gun for some really bad people. By the time he joins the Leverage team, he is absolutely famous as being unstoppable and terrifying, a reputation he uses, but isn't proud of. Eliot is EXTREMELY protective of the team, even early on, and he will DESTROY anyone who hurts them. While he is usually positioned for bodyguard duty, though, Eliot is a fair grifter himself, and he can also make and execute plans that work far better than Hardison's. The reason he doesn't, though, is never stated, but I think it's obvious from everything else — the person who makes the plans (see Nate below) has to be willing to push the team, even endanger them, to get the job done. And that is something Eliot will not willingly do. Eliot loves this team even when he wants to strangle them all. Eliot is played by Christian Kane, which means they could do other things with the character, since he's a frighteningly skilled human being; Eliot, therefore, can sing and play guitar (Christian Kane being a country star when he's not acting), and can cook (which Christian Kane can also do — it's not feigned). Eliot is the sword and shield of the team, and in some ways, its heart.
Sophie Devereaux is the team's main Grifter. She can charm anything out of anyone, playing a dozen different roles in the span of a few minutes. She shifts her accent around to become a British Duchess, a South African diplomat, an Indian doctor, or an Aussie escort. Sophie plays a little bit the role of team mom, teaching the others, talking to them, guiding them through being part of a team or learning new skills. She is a thief in her own right, though, known worldwide for the art she has stolen that has never been recovered. This is how she met Nate — he spent a huge portion of his career chasing her. She has also, obviously, had romantic feelings for him since long before the series began, but she understands that she has to let Nate figure himself out in his own time.
(In the middle of the 2nd season, Sophie semi-left the show due to the actress's pregnancy, so she sent in a grifter friend of hers to fulfill the role and balance out the team. Tara's an okay character, but she's not Sophie.)
Nate Ford is the team's Mastermind and leader (and the one I enjoy writing the most outside of Eliot). Nate was an insurance investigator, chasing down big-ticket items and trying to recover stolen property so his company wouldn't have to pay out the losses. In this way, he came into contact with all four of the others, hunting them over the years in different capacities. However, when the series opens, he has been reeling from a pair of double tragedies — the death of his 8-year-old son and a divorce from his wife — and has lost his job as well. Nate is magnificently intelligent, able to read a situation in seconds, perceive more than anyone not in the mold of Sherlock Holmes would see, and design sometimes elaborate plans for the team. He is the chessmaster (also literally) and he has earned the loyalty of the team because he is *just* *that* *good.* Nate can grift as well as plan, and he was raised by a thief himself so he has some slight of hand tricks as well (and sometimes he punches people, but usually only if Eliot has softened them up first). Nate is the team's leader and dad, pushing them, supporting them, and also holding onto them for dear life because they are all he has left. Nate struggles for the first, eh, 3ish seasons with a drinking problem, going from what he calls being a "drunk honest man" to a "sober thief" to a "drunk thief." (He also calls himself a functional alcoholic which is a joke the writers tell about one of the series creators.) Nate's feelings for Sophie grow throughout the series, though the chemistry is there from the start, but he's just too broken to do anything about them for a long time. Nate sometimes balances on the edge of insanity, and when that happens, it is the team who pulls him back.
The whole team has a strong family parallel going of Nate as the dad, Sophie the mom, and the other three as kids — Eliot the eldest, Nate's right hand partner and go-to, Hardison as the middle kid looking to prove himself but also keep the peace, and Parker as the wild youngest with too much of her father's crazy in her. The jobs they pull tend to be amazing, but it's that team dynamic, different from TMNT but just as wonderful, that really holds me. These people would walk into hell for each other, would follow one another to the end of time, and, in some cases, would kill for each other. They are better together, and they all know it — even if they rarely want to back themselves into the corner of talking about it.
Cardcaptor Sakura and Tsubasa Reservoir Chronicle=

I'm going to talk about these together for reasons that will become obvious. I'll start with CCS.
Basically, Cardcaptor Sakura is one of the finest magical girl animes out there. Really, it is. Yes, it's about a cute girl with magic powers, but it's also about a lot more than that. Sakura herself is utterly charming, and the 70 episode series is an intensely slow build of character interactions, relationships, and revelations. CCS is one of the few series I watch about once a year all the way through, and it brings me joy every single time. There are things it took me 5 watches to pick up on, tiny hints foreshadowing reveals, character quirks or throwaway lines that turned out to be literally the entire answer. But at its center is Kinomoto Sakura, a girl who found a deck of magical Cards and promptly lost them. She is charged with collecting the deck again, which means overcoming each one, because each is magical and will defend itself to keep from being caught. So, for example, the Fiery Card sets an amusement park on fire and Sakura has to defeat it. Or the Sword Card possesses one of her friends and attacks her. Sakura has been warned by the Guardian of the Cards, a little bear with wings named Keroberos, that if she does not succeed in recapturing all of the Cards, a great tragedy will befall the world. She asks Kero if that means the world will go "boom." He responds, rather tellingly, "No, nothing like that. Depending on who you are, it might not be too bad at all. But…for someone like you, it might be more painful than the world going boom." And he is right.
I'm not gonna spoil it, obviously. And the thing is that the Cards capturing ends around the episode 46 mark, and there are 24 more episodes after that because things are never quite over.
Sakura herself is a cheerful, brave little thing, filled with kindness and friendship and earnestness. She pretty much fills me with happy.
But the series would not be complete without Li Syaoran. Syaoran shows up in episode 8 or 9 as a transfer student from Hong Kong. He is a blood descendant of the magician who made the Cards in the first place, and he has sworn to retrieve them himself. At the beginning, he is an unmitigated jerk. No, really. He doesn't care about Sakura, he doesn't care that Kero has chosen Sakura to find the Cards, he doesn't care about feelings or being kind or anything. He has been training in the traditions of his family since he could walk, is skilled with his own magic and with his swordwork, and he knows more about the Cards than Sakura — and is out to prove he is the rightful one to collect and master the Cards. But as time goes on, he slowly gets pulled into Sakura's kindness and friendship, and he becomes protective of her, too. Even if he wants the Cards for himself, he doesn't want anything to happen to her. And then…well…ye gods does he ever fall for her. It literally takes him 50 episodes to get there, though if you're watching him closely you can see him starting to blush around her far sooner.
When Syaoran does fall for her, it is complete. And it is EPIC. Syaoran's whole world becomes Sakura, and she doesn't even know it. How they handle that, especially because Sakura spends the ENTIRE series in love with someone else, is just…well, I still cry, okay?
This show also has a lot of unusual relationships in it, too. There are implied lesbian romances (one-sided, sadly), and a canonical gay relationship which is just as beautiful as the slow burn of Syaoran's love for Sakura. The True Love is strong in this series, and it is everywhere.
Besides being just an exquisite example of family and friends and loves, it also has this thread running through it that Sakura is brave enough not to give up, no matter how scared she is. And that, if she's the one still trying, in the end, she'll succeed. Several characters comment on it. "If it's you, Sakura, it'll be okay." And Sakura learns for herself what she comes to call her Invincible Spell: I will definitely be all right. No matter how bad it gets, she keeps finding enough belief in herself and enough love for her friends to keep trying.
I'm still discovering how much of an effect that mentality has had on me over the years.
Of note — don't EVER, and I mean EVER watch the American version of this show called "Cardcaptors." It's not just poorly dubbed. It's not even that they changed at least one gay relationship to make them "cousins." It's that they decided they couldn't air the series as it was, mostly about a girl, and so they chopped it up to manufacture episodes of greater conflict between Sakura and Syaoran for the Cards. They actually plug bits and pieces in from different episodes, even from different seasons, to try to make a totally different story. It is AWFUL. It is UNWATCHABLE.
Now, here's where Tsubasa Reservoir Chronicle comes in.
CCS is made by the manga/anime house CLAMP. Because it was SO wildly popular, they decided to do an AU of their own series and created TRC. Tsubasa takes place in a different world, but has Sakura and Syaoran and several of the other CCS characters making an appearance. But it's a REALLY different anime.
The premise per the first 2 episodes is this: Sakura is a princess in the Kingdom of Clow. Syaoran is her childhood friend, who loves her SOOOOOOOOO much, and whom she loves in return. But before she can confess her feelings to him, and him to her, they are interrupted by basically a curse. Sakura's soul, and her memories, are ripped from her body and cast into multiple dimensions and even through time, leaving her a dying shell. To save her, Syaoran takes her to another CLAMP character from another series (but, ultimately, the entire CLAMP universe is one long story with lots of bits and pieces spread throughout their various series) called the Dimensional Witch. The Witch can give Syaoran the ability to travel through dimensions and time to track down the pieces of Sakura's soul, but there is a price. If he accepts this power, he surrenders his entire relationship with Sakura forever — no matter how many memories she gets back, he will never be in them. She will never remember her feelings, will have gaps and blanks and empty spaces in her mind where he should be, and all that they were for all the years they grew up together will be gone. Syaoran never even hesitates. He sacrifices every memory she'll ever have of him and goes on the journey to save her. And, as they journey (because she has to come with in order to receive the pieces of soul as he finds them), every time she gets close to wondering what used to be between them, it is taken away again.
And Syaoran. Oh, ye gods. He loves her more than I think I've ever seen any character in anything ever love another. When she first looks at him and doesn't know him, I mean, he is DESTROYED. But he never stops loving her, ever. He risks his life a million times just to call her "princess" instead of "Sakura" and to have her refer to him formally in return. He listens to her recount each new memory she gets when he finds them, only to realize she's remembering him, but not, and he has to hold onto that for them both. He LOVES her. And it is HEARTBREAKING.
Sakura, for her part, is rather different in TRC from her CCS counterpart. For almost the first half of the first season, she has almost no personality at all, since it's all been ripped away. The more she grows, though, and the more she regains of herself, the stronger she becomes. And, frankly, the more like her CCS self she becomes. And she, not knowing Syaoran from a stranger, falls in love with him, agonizingly slowly.
But the thing is that this journey is…not at all what it seems. There is another force at work, the one who scattered Sakura's memories in the first place, and who is directly connected to the person who made the Cards in CCS. And he has an EEEEEvil plan. And…then it gets SUPER EXTRA COMPLICATED.
See, the thing is that the anime stops before it is resolved. Literally, the series ends, and then there's an OVA of 3 episodes that rips apart literally *EVERYTHING* you thought you know about every single person in the cast. And then it stops. And then there's another 2-episode OVA that picks up an arc and a half later which makes it ALL WORSE. And then the anime stops AGAIN.
To finish it, to get the actual plot wrapped up, and to have any freaking clue WHAT THE HELL JUST HAPPENED you have to either read the manga, or let me tell it to you. Because I've read the manga several times, and I've taken several friends through this series. It takes me an hour, and that's without the visual aids I took of critical pages from the manga. But it…uh. It makes it all several times more complex than it was, and more heart-rending. In the end, though, the central story is one of love that lasts beyond life, beyond time, beyond form. It is love willing to move every universe, no matter the consequences, to protect. It is the most intense and both soul-fulfilling and soul-killing series I've ever watched. Not to be undertaken lightly, but very much worth it.
---
So, there you are.  Some of my top fandoms, and the reasons behind them.  What did I miss?  What awesome isn't accounted for?