Yeah, it's been a while.  Sorry.  There was some combination of a horrible 2-week cold that would not die and a lot of other things happening.  For example, tomorrow I'm singing in the TCWC Singathon to raise money for the choir and also to have fun with my sisters in song.  Check it out!
But that's not what I'm going to talk about today.
Today I want to talk about climbing.  And writing, too.  But we'll start with climbing.
Several years ago, a friend and I took up indoor wall/rock climbing at a place called Vertical Endeavors in Minneapolis.  It's big facility where you can strap on a harness and test your mettle against some pretty impressive walls.  Like this one: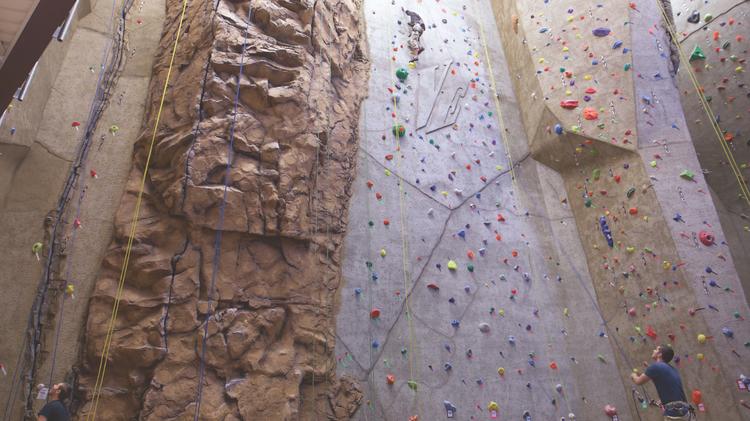 How we got into the climbing itself was kind of an accident.  When the Minneapolis location opened, the pair of us went to check it out and, in spite of the fact that it was very, very crowded and we were oh-so-terrible at it, we thought it might make for a good physical activity — and we very much wanted and needed some kind of exercise on a regular basis.  It took us a few weeks to get a system worked out (parking wasn't terrible right away but it quickly became so, the distance from home to VE was inconvenient and meant dealing with rush-hour traffic, etc.) but soon enough we were making our way up walls a couple of times a week.
Of course, life got busy and we sorta forgot about climbing for a while, going only a few times a year not long ago.  But then Vertical Endeavors very helpfully opened a new location much closer to home for both of us and now we're back to hauling ourselves into the air at least twice a week.
Climbing is a really interesting sport.  It's deeply, profoundly competitive, but that competition is internal for the most part; I have a unique ability to compete with ANYTHING and ANYONE, ANYTIME, but that's mostly just me.  In general, it's not about being better than other climbers in the gym because there will ALWAYS be better climbers in the gym who were raised in a harness and can scale a glass wall without a safety line.  It's not about being better than your climbing partner (unless you're me, and then I don't go for "better" so much as "at least as good as" anyway).
It's about pushing yourself, your body, and your brain.  To climb familiar walls faster and more smoothly and with greater skill.  To climb more difficult routes and not to give up until reaching the top even if it makes your fingers bleed.  To make the advanced move that defines a difficult route rather than just throwing yourself at the wall and flailing your way along.
The great thing about climbing is that it isn't purely physical — more on that part of it below — it is an equally mental exercise.  It's playing Tetris with your body, figuring out how to get your limbs into position to reach the next hold, or how to align your balance to make the best use of it while you hang off a narrow grip.  It's problem-solving at speed, and what you might lack in strength or experience you can make up for in creativity and determination and a certain willingness to bruise the hell out of your knees.
Next time I have a really good bruise, I'll show you what I mean.  My knees are permanent shades of green now.
The physical side of it is not to be forgotten, however.  Climbing is easier than you think it should be when you're doing it correctly — as in, when you really use your legs to carry your weight instead of trying to haul yourself along using arms alone.  But as soon as you figure out how to do that, then you start climbing harder routes and you find out that, no, you really do sometimes have to hang 50% of your weight off one hand, and then off only a few fingertips.  Or else you find that you have to be able to haul yourself to a standing position when your butt is hanging lower than your feet.  And you do it with your toes perched on something no larger than a ping-pong ball and your hands clinging to grips that barely deserve the name.
It's a perfect sport for me, really.  On the one hand, it does get me the physical exercise I otherwise lack; I am not a runner, biker, or go-to-the-gym-er.  I need to be exercising, like everybody should, but I need it to be a challenge.  I need it to be intriguing.  And, frankly, I need it not to be aerobic or my breathing will shut down.  This is all the precision of swimming (which I also love but I hate chlorine), the strength-training of weights (boring), and with a whole element of mental and psychological toughness about it.
Because the other thing of note is that I am, unequivocally, afraid of heights.
No, seriously.  I am.
It's weird, right?  That my sport of choice would involve hauling myself up 60-70 feet in the air?  That I would do it, willingly, when I have an intimate awareness of how high up I am, how exposed, and how likely I am to fall?  Yeah, it's weird.
But that's the third facet of it that I really, really like.
Being afraid of something is not good enough reason for me not to do it.  In fact, I'm the sort of person who will try something precisely BECAUSE it is scary (at least once).  And the thing about climbing is that there is more triumph in it for me when I have to master not just the route and my body, and not just the problem-solving, but I have to do it all with the spicy cold of fear running through my veins.  A difficult move that might result in a fall is far more difficult because of the terror of falling.  And yet I make the moves.  And yet I keep climbing higher and higher.  Even if I need to stop and hang on the wall for a minute to catch my breath or shove that distracting fear in a small box where I can ignore it, I don't give up.
I'm not just strengthening my muscles; I'm strengthening my resolve.  I'm strengthening my endurance against the screaming inside my own head.  So the next time my ears ring with panic and my brain gets lost in a flood of cold fear, I'll have practice beating it down and thinking through it, in spite of it, and making progress regardless.
Climbing requires you to be willing to take a risk, to make a move and maybe fall.  And it's scary as hell, it really is.  But every time I make that move successfully, every time I get to the top of a difficult wall, shaking and elated, it pays off and it pays forward.  The next wall won't be so scary.  The next route won't be so intimidating.  The next real-world panic won't have so much power over me.
Which is where writing comes in.
Writing and climbing have a lot in common in terms of how I approach and think about them.  Both are ultimately rewarding on multiple levels, and both trigger my inner desire to be better, faster, smarter.  Both could also make me want to compete against others, but that would be equally worthless for either.
Writing may not take as much of a physical toll as climbing, but the lessons of thinking it through, checking my balance, looking for alternative ways to solve the problem, taking chances — they all hold for writing, too.  Nobody wants to read a book that is the written equivalent of a ladder.  They want to read the book that twists them back and forth, that flips the weight of expectations and whose stakes are always high.  And that's the kind of book I want to write, too.
There's also an aspect of discipline and overcoming fear.  To get to the end of the book, I have to keep going no matter how hard or scary it gets.  I could stop in the middle and give up, but it just means I'll have to start all over again, this time weighted by the knowledge of my own surrender.  I can stop trying the complicated stuff and go work on something easy, but the payoff won't be the same.  When climbing, sometimes I have to brace myself mentally and physically and take a huge risk on every single move from start to stop.  Sometimes I have to grit my teeth and twist myself into a painful knot to keep moving forward.  Why should writing be any different?
And reaching the top, looking back at that path I have forged with legs shaking and hands cramped and knees bruised AGAIN DAMMIT, the victory on the wall is just as sweet as it is on the last page of a manuscript.
And, with every climb, even if I fail, I get stronger and smarter for the next one.  Muscles get BIG when you work them and my writing chops are no different.  In related news, I'm going to need some new shirts before I Hulk out of the current sleeves.  Which is a good problem to have, kinda-sorta, need to buy clothes notwithstanding.
Right now I'm working towards the climax of a novel I think I will actually put out to query at some point next year.  A lot can happen between now and then, but I feel like this one is worth trying.  And every time I shy away from that, or get so worried about "is it publishable?" I stop focusing on "what scene comes next and what's in it?" I turn back to the mentality that gets me up the wall of a tough route.
One move at a time.
Just make this move, just reach that next hold.  Just push and pull and gain a few inches.  Just a few.
Then breathe and sort out the next one.
There is nothing behind that matters.  That's all been handled.
What is ahead matters, but there's no getting to the end without forgetting about it long enough to take each step on the way one at a time.
It's hard, yes.  It should be hard.  It's worth it because it's hard.
It will be worth everything when it is done.
One move.
One paragraph.
Trust and take the leap.
And you know what?  I'll make it.  One way or another.
So I'm going to go do that.  Write AND climb, actually.  In that order.  And between the two of them, I'll banish some fears of falling and I'll probably get some new bruises and I'll have a hell of a lot of fun overcoming every obstacle in my way.
See you at the top!